Our Agile 'Game Plan'
This summer, I will speak about my new business model at Scrum Day Europe in Amsterdam and Agile Greece Conference in Athens. The business model I invented is derived from computer games and game mechanics. Really? Yes really. But a lot of these mechanics can also be found in scientific models, loads of management books and are often part of agile and lean methodologies. Let's say I applied 'game thinking' or gamification to organizational thinking. It's apparent that organizations are forced to continuously change their mix of people and properties in order to remain relevant to their buyers, consumers and users. It takes a lot of energy commitment and guts to transform whole organizations. Not many people are willing to change, not even capable or just scared that change might lead to undesired consequences (losing their job or sense of control). In fact, when I was in the proces of uncovering why people do or do not undertake necessary actions, fear is often the most dominant factor. Taking actions that change the way you work, live or a complete organizations need: willingness, knowledge, physical action and the right amount of guts. In other words, change needs:
Want to
Know what to
Able to
Dare to
It requires the right amount of drive and motivation to make people want to change. Then they should know what to do to start the change. Then they should be enabled (given the right amount of freedom or responsibility and necessary means) to physically act in the right direction with decisiveness and power. And finally… if the three mentioned previous elements are executed well, they will feel comfortable making that change. If not, they need to be pushed over the edge by management or colleagues. You can do that by making the first step incredibly easy, fun and measurable to be able to celebrate succes shortly after. We call this: play! If you consider change, playing around – it's not so scary anymore. Call it an experiment, call it an alternative. Challenge people daily to achieve the same goal in a different way and see what they come up with.
Oftentimes change management is perceived as being a 'project' or a temporary thing. But change is constant. You might say that the CEO should be the Change Executive Officer. He should lead the change as change should be the primary drive of every organization, at least when change is the equivalent of: improvement. Each CEO should look at his organization day in-day out thinking: what can we do different today that will change the world tomorrow. We are successful doing what we do now, but what will deliver more success tomorrow? You need to 'level up' each time you successfully went through all states of the process. From an MVP, to a version 2.0, to 2.1, etc. If you know 50% of all product introductions fail, because companies look at it as a failure. It's just version 1.0 … now improve. F.A.I.L. stands for: First Attempt In Learning…
The business model I developed as part of the Game Plan consists of four processes that each organization should manage. These processes are:
Thinking process
Making process
Selling process
Improvement process
I suggest the CEO is responsible for process No. 4. The commercial officer should take care of No. 3, the COO or No. 2 and the CIO (or R&D) of No. 1. Instead of organizing them in teams under the CEO, they should all be part of the same main process. It's a continuous cycle, not a solid structure of people managing a department with different KPI's. We can only build pyramids with similar purposes, but we should not organize people in pyramids. We should organize people around processes (oud = old, nieuw = new).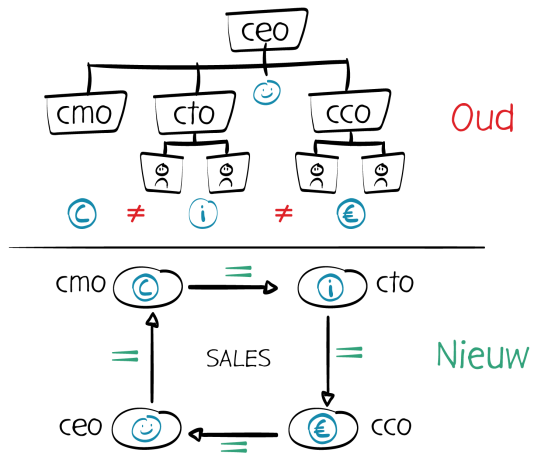 They all strive to do better next time, so the only KPI is sales or profit. Increase profit, by increasing turnover and reducing (relative) costs. In the following picture you can see that if the same CEO, CMO, CTO and CCO work together in the same process, you can actually expect that to work together even though their KPI is different. Happy customers and employees deliver a good brand equity and NPS. Analyzing and listening to your clients and employees delivers great ideas for new sales opportunities, you can deliver according to their needs if you listen well enough and increase sales, etc.
The Game Plan that I have developed is based on 100+ management books and uses game mechanics that most successful games use. It consists of the following five P's (that are interdependent):
People on your playground
Purpose pyramid of your key players
Process
Performance
Play (how can we make the necessary functionalities more fun)
We developed several tools that can improve your process and performance significantly. Amongst them are the GameStorm and the Progress Loop method. These are all proven and in-house developed methods that BrandNewGame exclusively offers to their clients and licensed partners. You can read about them in my new book 'Playing on the job' (due in 2017) or come to the seminars I speak upcoming year! First up are:
Join me at the upcoming events (links will follow) or follow me on Twitter @BartHufen #Gamification